Heather Ames Named National Finalist for Entrepreneur of The Year
Heather Ames Versace recognized as an unstoppable entrepreneur transforming our world in the Artificial Intelligence industry
Palm Springs, California November 20, 2019 – EY named Neurala COO and Co-Founder Heather Ames Versace a national finalist for the Entrepreneur Of The Year® 2019 Award. Now in its 33rd year, this prestigious award recognizes and celebrates unstoppable entrepreneurs who redefine the way we live, work and play. Heather was named a finalist by an independent panel of judges, and the recognition was announced at the Strategic Growth Forum® in Palm Springs on November 16. National Entrepreneur of the Year Finalist can now be added to the already impressive list of accomplishments Heather has amassed in 2019. Earlier in the year, Heather played a major role in Neurala's product release of Brain Builder, a SaaS platform that dramatically reduces the time, cost and skills required to build and maintain production-quality custom visual AI solutions. She was also recognized by BostInno in their 50 on Fire awards.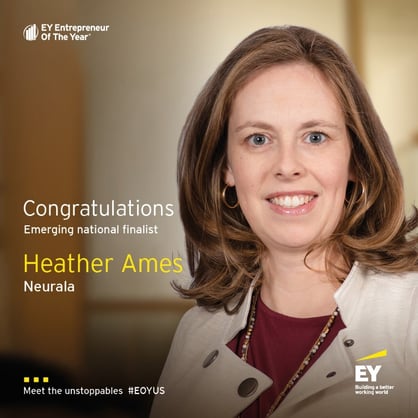 EY's recognition of Heather as an entrepreneurial luminary began in April when she was announced as a regional semifinalist. After the exciting announcement, she was selected by a panel of judges to represent New England as a regional finalist in which she was ultimately named Entrepreneur Of The Year® in New England. When asked about her journey to becoming a national finalist, here is what she had to say:
"This year has truly been an amazing ride and I have to give credit to my brilliant team at Neurala. They are the ones that work tirelessly to see through the plans and dreams of our founding team."
The Entrepreneur Of The Year Award program has proven its ability to pick out particular traits within a company that will then catapult it to join the ranks of some of the world's most successful and thriving businesses. These winners have shown what it takes to build and, more importantly, sustain a thriving enterprise.
Neurala is on a mission to make AI more applicable and useful in real-world applications. Neurala pioneered AI-powered visual inspections with technology that dramatically reduces the time, cost and skills required for AI model development.
Follow Neurala on Twitter @Neurala and on Facebook, YouTube and LinkedIn.