New Neurala Robotics Software Enables Visitors to Drive a Robot on "Mars" at the Museum of Science, Boston
Premieres Today In Celebration of Computer Science Education Week
CAMBRIDGE, MA – December 13, 2013 – Visitors to the Museum of Science will be able to drive a robot on the Surface of "Mars" using software created by Cambridge, MA-based robotics company, Neurala, Inc. The new hands-on activity in the Museum's Cahners Computer Place, a permanent exhibit where visitors are encouraged to think about digital technology, launches today as part of the celebration for Computer Science Education Week.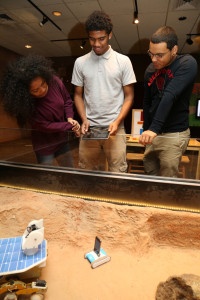 Neurala and the Museum of Science, Boston teamed up to create this new experience to enhance the Museum's Mars Yard interactive, where visitors can interact with robotic tools and software which are being created for use by NASA. For the new experience, the Museum supplied hardware from Apple and Romotive, and Neurala created both the Apple iPad-based robot controller app and the software for the Romotive Romo Robot.
Visitors drive a robot on the Mars Yard surface to complete a mission. They must retrieve information from a stranded Mars rover, "download" data and then investigate whether there is water on Mars.
Over time, Neurala plans to add additional features to the exhibit based on the robotics software it is developing for NASA, the National Aeronautics and Space Administration under a Small Business Technology Transfer (STTR) grant. The software leverages cutting-edge computational neuroscience research coming from the Boston University Neuromorphics Lab and the National Science Foundation funded CELEST Science of Learning Center. The additional capabilities planned to future versions of the exhibit include extended missions, robotic learning and autonomous navigation.
"The new experience is in the center of our Cahners ComputerPlace. Working with Neurala is an exciting opportunity for us to partner with local researchers who are having a big impact on the field of robotics and space exploration. We are thrilled to have the new state-of-the-art robotics experience and look forward to working with Neurala as they create new capabilities," said Lydia Beall, Design Challenges Program Manager for the Museum of Science, Boston.
"We think it is important that as many people as possible experience how robots can enrich their lives and expand scientific discovery. Working with the Museum of Science Neurala hopes to provide a fun, educational robotic experience directly to the public and support the educational mission of the museum," said Massimiliano Versace, CEO of Neurala.
Visitors to the Museum of Science, Boston can experience the next activity beginning Friday, December 13 in the Cahners ComputerPlace, Blue Wing, Level 1.
About Neurala
Neurala, Inc., (https://www.neurala.com), founded in 2006, creates software that enables robots to move, work and learn among people. Its patent-pending Neurala Intelligence Engine (NIE) is based on the work done by the founders at the Boston University Neuromorphics Lab (http://nl.bu.edu), which studies biological intelligence and embeds the derived fundamental principles in computational models of perception, motivation, decision making, navigation, and motor control, and bio-inspired robots and processors. Neurala's research has been furthered by funding from NASA and the U.S. Air Force. (Neurala was recently selected to receive a NASA STTR Phase II award). Follow Neurala at @Neurala or on Facebook at http://www.facebook.com/neurala.
About the Museum of Science, Boston
One of the world's largest science centers and Boston's most attended cultural institution, the Museum introduces about 1.5 million visitors a year to science, technology, engineering, and math (STEM) via dynamic programs and hundreds of interactive exhibits. Founded in 1830, the Museum was first to embrace all the sciences under one roof. On November 16, the Museum opens the Hall of Human Life, a groundbreaking 10,000-square-foot exhibition drawing from the latest discoveries in the life sciences to engage visitors in their own biology and health. Other highlights include the Thomson Theater of Electricity, Charles Hayden Planetarium, Mugar Omni Theater, Gordon Current Science & Technology Center, 3-D Digital Cinema and Butterfly Garden. Reaching over 20,000 teens a year worldwide via the Intel Computer Clubhouse Network, the Museum also leads a 10-year, $41 million National Science Foundation-funded Nanoscale Informal Science Education Network of science museums. The Museum's "Science Is an Activity" exhibit plan has been awarded many NSF grants and influenced science centers worldwide. Its National Center for Technological Literacy®'s engineering curricula have reached over 55,600 teachers and 4.2 million students nationwide. The Museum has also: been recognized by Boston and Cambridge for energy and sustainability efforts; named an Employer of Choice by Work Without Limits, a Massachusetts disability employment initiative; is Yankee Magazine's "Best of New England Readers' Choice" for Cultural Attraction in Science and "Best of New England -- Editors' Choice" for Best Sky Show; and is El Planeta's Best Tourist Attraction for the Massachusetts Latino population. The Museum's Undiscovered Worlds was recognized as the "Best Immersive—Fulldome Program" by the Jackson Hole Science Media Awards. Visit http://www.mos.org. Follow the Museum of Science on Twitter at @MuseumOfScience or Facebook at www.facebook.com/museumofscience.