VISION 2021 - Neurala Europe wins Startup of the Day
Neurala is pleased to announce a successful trip to VISION 2021, the world's leading trade fair for machine vision, which took place this week in Stuttgart, Germany. VISION is held every two years, and after a brief pause in 2020 due to COVID, the show returned in 2021. VISION provides a unique overview of a range of machine vision products and services while providing insights into current and future technologies. In addition to the amazing exhibitors, the trade show also impresses with a loaded list of presentations and speakers.
This year marked the launch of the VISION Start-up World, a section of the show dedicated to new machine vision startups in varying industries. Neurala Europe made its debut in the VISION Start-up World at stand E60.10, displaying a live demo of our visual inspection software VIA.
Neurala Europe had an eventful third and final day in Stuttgart. It began in the morning with a presentation by Neurala VP of Sales, Steve Walsh titled "How Next Generation Deep Learning is Making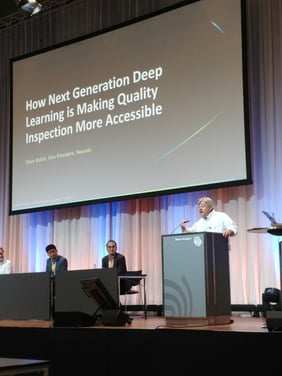 Quality Inspection More Accessible". Steve addressed many of the common challenges manufacturers
face such as inflated cost of operation, small company size and data collection issues. "To be truly
adopted broadly, the next generation of deep learning solutions for manufacturing need to address the
common challenges above", said Walsh. So Neurala took a unique approach in developing VIA, resulting in one of the most flexible AI-powered inspection software solutions on the market. Additionally, on the third day of the show, Neurala Europe was recognized as "Startup of The Day". Congrats to
GrAI Matter Labs
on winning "Startup of the Show" with their new AI chip.
VISION 2021 was a great experience with a bright and engaging audience, We look forward to future VISION shows!
For more information, visit: www.vision-fair.de.