Unveiling Anomaly HiFi at Vision Stuttgart and The Vision Show Boston
Vision 2022 in Stuttgart Oct 4th – 6th
Vision 2022 in Stuttgart, one of the premiere international vision industry tradeshows, typically occurs every other year but because of the pandemic delaying the show in 2020, the show occurred in 2021 and more recently the beginning of October 2022. What a difference a year has made. Around this time last year, Neurala exhibited at its first Vision show following the launch of our Neurala Europe subsidiary in Italy. One year later we returned to Stuttgart to launch the very latest version of Neurala VIA while taking in the latest products, advances in technology, and innovations from others in our industry. Here's our take on the highlights from Vision Stuttgart, 2022:
In our stand, we debuted our Anomaly HiFi feature on a brand-new demo machine manufactured by our local partner in Austria, AuC Systems. The new Anomaly HiFi feature, extends the capabilities of Neurala VIA, enabling the training of an AI model using just 'good' or 'normal' images and then highlights the 'defects' or 'abnormal' pixels in subsequent images that appear to deviate from 'normal.' The demo itself simulated the various points where VIA would fit in and improve a bottling inspection process We had Anomaly HiFi checking the necks of the glass bottles for defects such as chips or scratches, classifier models identifying which type of bottle caps were being used to seal, and detector models checking labels for print quality and barcode location verification.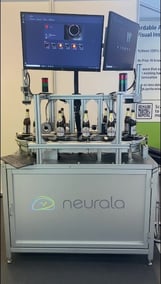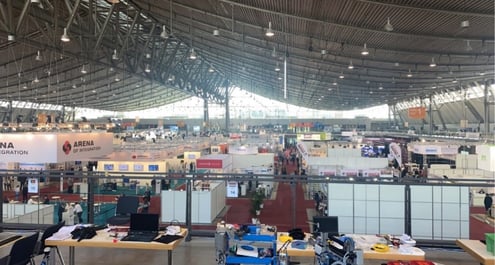 Neurala's CEO and Co-Founder Max Versace also delivered a presentation on how Deep learning and AI is revitalizing the manufacturing industry. The presentation can be found here: https://www.youtube.com/watch?v=vZTnl8G413k
Notable trends and technologies we found interesting at the show:
An increase in applications for event-based vision systems from companies like Prophesee.
The integration of AI into traditional vision products for OCR and barcode reading from companies like Zebra Technologies.
The proliferation of smart cameras from almost all camera manufacturers (including from our partners at Teledyne FLIR and our collaboration for the Firefly DL.)
Hyper spectral, multi-spectral and SWIR cameras are having their moment with a variety of use-cases for these sensors being highlighted (looking for contaminants in food products, the presence of moisture in baked goods and assessing the quality of fruit all being demonstrated.) In fact, we've some customers leveraging these sensors with VIA and obtaining great results on projects not solvable using traditional RGB or monochrome cameras.
According to the show organizers, here are some stats from Vision 2022. 6,500 attendees representing 60 countries and 378 exhibitors. In all, it was a great week and we look forward to returning to Stuttgart for Vision 2024.
Vision Show Boston Oct 11th – 13th
The week following Vision 2022 in Stuttgart, we continued to show off Neurala VIA and Anomaly HiFi at the Vision Show in Boston. The Vision Show Boston, North America's leading machine vision and imaging trade show and conference, showcased the latest products, and offered educational sessions taught by top industry experts. The Vision Show Boston is hosted by the Association for Advancing Automation, A3 for short, and aside from gathering the worlds leading machine vision experts in one place, the show also offered a new, refreshed basic and advanced Certified Vision Professional (CVP) course. A CVP-Advanced certification is currently the highest level of distinction for vision industry professionals worldwide.
It was refreshing to see many of the same faces from the previous week in Germany to continue to connect, build relationships and create solutions to many of the inspection problems manufacturers face. As you might expect, many of the same themes and trends from Stuttgart continued at The Vision Show in Boston.