Automate 2022 - Neurala's Review
Last week, June 6th- 9th , hundreds of North American Robotics companies flocked to Detroit MI for the largest and one of the most inspiring showcases of robotic automation at Automate 2022. After a 2 year hiatus, this year did not fail to impress with organizers, A3, confirming in this post-show release that it was their best attended show ever.
The Neurala team attended and exhibited at the show while our CEO Max Versace and VP of Sales, Steve Walsh, delivered heavily attended presentations on AI and Deep Learning's impact in manufacturing. More information on Max's presentation can be found here.

Neurala's Vision Inspection Automation (VIA) software was demonstrated live at the Neurala booth highlighting CPG packaging quality, product counting, QR/barcode detection and a circuit board defect identification use-cases. We were running these live demos of all our available model types, Classifiers, Detectors and Anomaly Recognizers using DALSA Genie Nano, Blackfly S GigE and Firefly DL cameras from Teledyne. The demonstration also featured VIA installed and performing inspections on Mitsubishi Electric Automation's MELIPC MI3000 using just the Intel i3 processor. The ease of use of VIA was reinforced through demonstrations of data collection, model training and deployment to the production line in just minutes. Learn more about VIA here.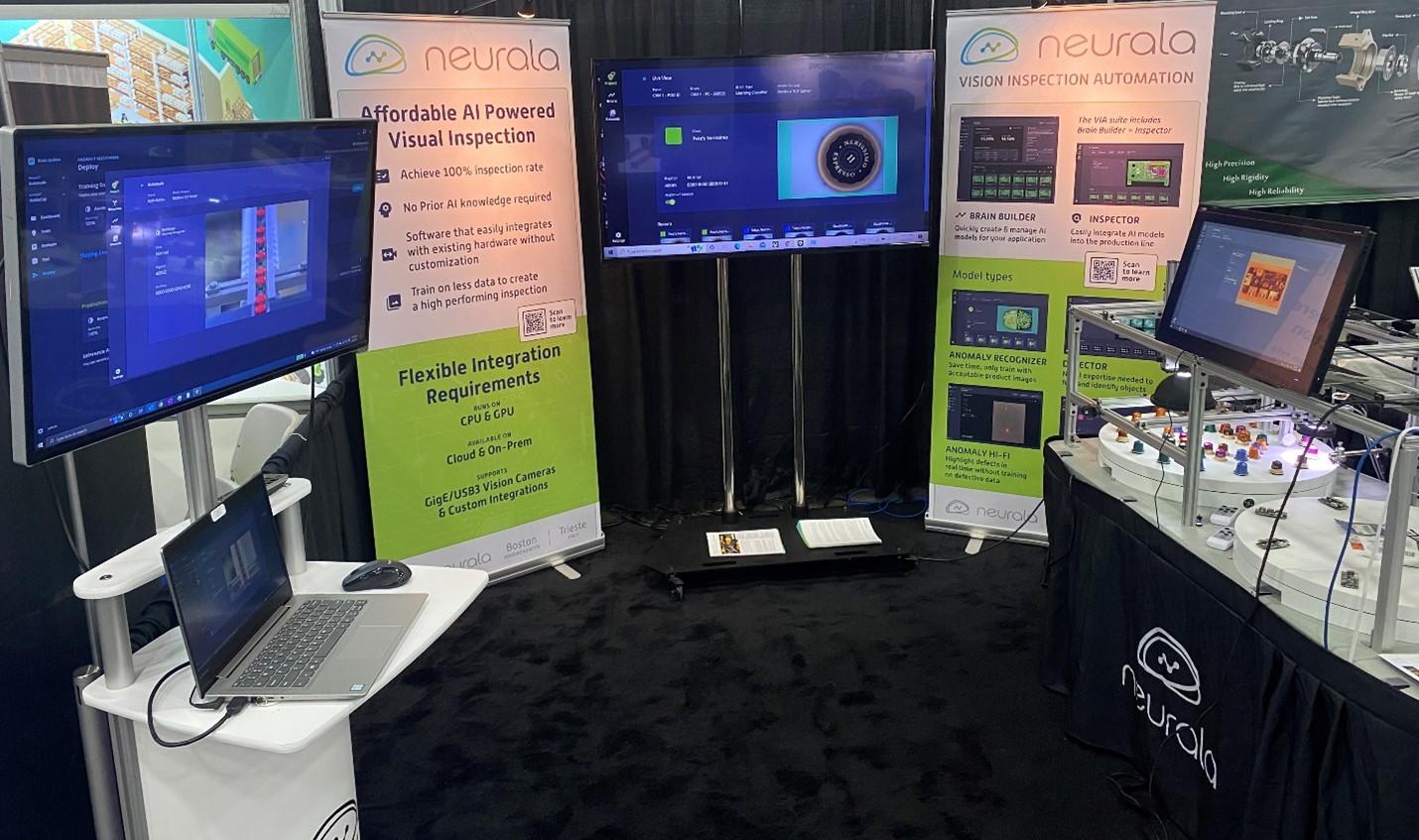 The Neurala team noted seeing many impressive smart camera and robotic systems on display at the show, ranging from FANUC's M-2000iA that is capable of lifting a car to smaller AMRs like Zebra Technologies that is designed for industrial warehouse use. While many smart cameras were on display, none were as cost-effective as the Teledyne FLIR Firefly DL which was featured in the Teledyne booth running AI models developed using Neurala VIA. For more information on our collaboration with Teledyne FLIR, download the technical data sheet.

Since returning from the show, I've read several good reviews of the technology showcased by exhibitors with some of the most comprehensive summaries linked below:
Overall the show was a success, drawing in thousands of attendees and the flow of people looking for innovative ways to solve their problems was constant. Check out some videos of our vision inspection software VIA demo below! The Neurala team had a great time exhibiting at the conference and look forward to solving your inspection problems with VIA. If you were unable to attend and want to see VIA in action, request a demo here.